Have you ever, even momentarily, believed that you may feel a pinch in your back sitting in that cozy corner of movie theater; turn back and get a chit "Welcome to the world of AIDS" and see a broken needle? Or, after coming to US did you not shop Tommy Hilfiger for years since, apparently, he thinks his clothing suits only whites? Or, Santa Clause was originally a creation by Coca Cola company? Or, if you accidentally ingest a chewing gum it remains in your entrails for at least next seven years before the stomach acid does it?
Well, I did! In each of them. I tried avoiding movies in theaters, even if I went I never chewed a gum, laughed off Santa Clauses at local mall as another marketing ploy, bought Gap instead and was always looking for a chopped finger in Taco Bell burritos.
Urban legends
are just like the statements above - they sound incredible yet too good to spoil the fun by cross-checking and create very strong urge to pass it on to unsuspecting family and friends. Created by our inner fears, social phobias, celebrity interests or just a way out of plain summer afternoon boredom -- these satiate the inner child in us that the real world bores to death otherwise. The only true "urban legend" I came across was in the movie "Lion King" there
IS
a shot of cloud that spells "S...E...X"! The X is a bit too subtle to miss on, though. Seriously, that was not heard from my friend's wife's cousin's ex-boyfriend, I verified it myself.
You believe or not, 'urban legends' are very cool to talk about in parties, on your second date and, possibly, to your daughter's boyfriend(s). As there are already extensive details in
Snopes
, I would just focus on the urban legends I encountered while growing up in Calcutta. Many of it have been passed on by (yeah!) my parents, some other by friends, some other I don't even remember - may be by a mini-bus co-passenger. There was no email back then!
1. Moonmoon Sen's "blue film"
-
Beer, smoke, Moonmoon Sen
This was(?) the holy grail for most of our generation. After sharing one beer bottle among three, in the dark alleys of Dhakuria, one in the group would propose to 'rent' this to utilize his "
khali bari
" (parents away). It would not take him much effort to convince other two 'drunks' that his friend from Naktala has sworn to have watched it the month before! The journey would typically end in Gupta Video-Golpark facing a very serious looking bespectacled gentleman at the counter.
Drunk1
- Errr, hmm, (coughs, looks guiltily to the elderly gentleman renting "Jungle Safari" VHS) - do you have any
good
(
special emphasis on the word like when you instruct the waiter on how spicy you want your soup
) Moonmoon movie?
Serious looking gent
- (paused for a few seconds. Enormous tension in the air) You mean "
Anurodh
"?
Verdict
- False. My "friends" have spent at least 4235 man hours locating it without any success. Similar story was reported in Newspaper on Shatabdi Roy when she visited West Germany in late 80s! However,
her daughter's naughty MMS clip
with an Asmit Patel is indeed real.
2.
Jyoti Basu's second wife in London -


Jyoti Basu leaves for London annually to spend time with his "second wife" and get skin treatments. Skin treatment is difficult to validate, but the "second marriage" bit is ludicrous. His first wife died within days of his marriage. In his
autobiography "

Jotodur Mone Pore

"
(As far as I remember) he writes -


Talk of marriage was being discussed. I did not attach much importance to this. I know there was a long and difficult struggle ahead but anyway, I got married. My father-in-law's name was Shri Amukule Ghosh; Prof. Prafulla Ghosh who tough English at the presidency college was part of that family. Within a few days of my marriage, my wife died. My mother died in 1941. I was sitting at the high court Bar Library when my father called to break the news. The last rites were performed by my elder brother. It was father who told me that there was no need to stick to custom and have vegetarian food. I would'nt have had anyway. But with father beside me, I got that extra bit of strength.


He got married again to Kamal Basu several years later.
Verdict
- False, though I could not verify the other "UL" whether Kamal Basu was his first-wife's sister.
3.
Kapil Dev can land a ball on a 25 paisa coin -

Not Exactly a Change Bowler
Several versions exist. In most, Kapil visits a school (different schools in different stories); eager ones ask for bowling advice; Kapil asks one to put a coin anywhere on the pitch and bowl on *that* coin - everyone fails. Kapil bowls six deliveries all of which land bang on the coin. Kapil asks them to first aim the coin at least 3 times in an over and then look for advices!
Verdict
- May be! Aiming a coin is a popular bowling practice, however whether Kapil really landed 6 out of 6 is debatable. Even if he did, the coin would surely move every time the ball touches it and chances are by second or third hit it may even be outside the pitch.
However, Kapil's father Ramlal did actually buy a buffalo to feed to his milk-loving son after strenuous practice sessions.
4.
Indira Gandhi had her younger son (Sanjay Gandhi) killed -
Bordering more towards conspiracy theory, this one is the Indian version of JFK. Apparently, Sanjay was blackmailing his mother and she could not take it anymore since it was hurting her party.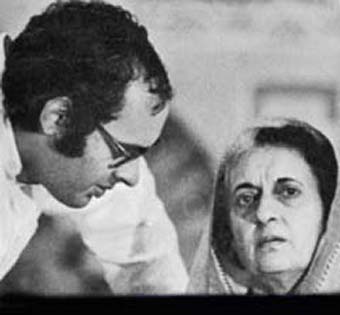 Verdict
- False! Why would Indira do such a thing within six months of winning 1980 general election? She was safe there for another four years and was riding the popular wave of disenchantment for Janata party.
However, Sanjay Gandhi was one colorful character and was involved in many controversial, juicy, and notorious incidents in that part of Indian history. Of course, he and his cohorts cracked the emergency whip -- but he was involved in probably the first-ever Indian "sting" operation. Maneka Gandhi ran a newspaper called "Surya" and it published Indira's bete noire Jagjiban Ram's son in compromising positions with a lesser known model. The
photos that absolutely ruined Ram family's hold on UP can be seen here
(
not office safe!
). Months later the publication inspired a movie called "
Bezubaan
" on the theme of paparazzi porn.
5.
Juhi Chawla is actress Kaberi Bose's daughter -
The very tall Bengali actress' best work is "
Aranyer Dinratri
" as an unfortunate widow who gives in to her physical needs, the puny Punjabi Miss India'1984's is arguably "
Teen Deewaren
". Apparently, Kaberi died from a Jeep accident in the hills of Darjeeling in late 60s, but one of her daughter's miraculously survived and was adopted by the Chawlas who were posted in nearby army base. The only other "I swear it's true" statement is "Don't they look similar?". As it happens, moms don't like being questioned on such versatile truth!
Verdict
- Sounds too goofy to be true. Juhi Chawla did act in some Bengali movies (like one suggestively titled "
Amaar Tumi
" - 'You're Mine'), just as she did some (forgettable) Telegu ones -- but other than the Jeep accident(that did happen) nothing else can be verified.
to be continued..