(Cont. after Part ONE)


6.
Morarji Desai - Pissed off or Plain Happy?

________
Before or After?

______________________________
Not only Morarji Desai banned any form of liquors in the state, he was probably about to banish the urinals as well before being toppled by a "
use body rejects as fertilizer ONLY
" peasant
leader Chowdhry Charan Singh in 1979. Apparently, Morarjibhai would wake up every morning, go to the bathroom and - let's say - would not need a cup of coffee later to start his day. He would stoically drink a glassful of his morning urine (otherwise known as "
Shibhambhu
" - Lord Shiva's water). One may wonder what the laboratory assistant would have told him before she needed an urine sample to test. "
Mr. Desai, the bathroom is in the corner, here is a glass, do NOT drink it full -- we need some for the sample!
"
Verdict
- Absolutely TRUE! On a prime-ministerial visit in 1978, he stunned the American audience when he boasted of his "urine therapy" to Dan Rather in one "60 minutes" show. That was his grand plan to bring the otherwise health-care to millions of poor Indians. American health system could never recover from the shock and has never been the same since.
If this is distasteful, please feel for the old man who was, let' say, unshaken in his belief and lived for over a hundred years! OK, one last joke. What would be Morarjibhai's expression for "not exactly my cup of tea" ;)
Unrelated Trivia

: Greeks were not much interested in "Euro" as the common currency as the word "urine" in Greek sounds similar. Britons tried to pacify Greeks saying that 'Penny' had already been nicknamed 'pee' with no one trying to get rid of it entirely.
7.
Suchitra Sen has "Blood Cancer"
-
Her last movie was a "
Priyo Bandhobi
" with Soumitra Chattopadhyay way back in 1978. Her last published photograph appeared in 1989 - clad in a burkha she came out to vote in the State election and someone was able to snap her even in those pre-MMS days. Calcutta's own Greta Garbo who has remained a recluse for last thirty years and yet continued to haunt three generations together to let them figure out the "why". The maternal generation, arguably unhappy with the carefully hidden photo of hers in our fathers' wallet, told us this. Per grapevine, she was seen not only in Belur Math, but with the
Sanyasi
in Noihati who only coughs to communicate, does not speak; or to seek the mud of the pond in
ChuNchura
that could cure ANY effing disease in the world et al.
Verdict
: Terrifyingly false. This has been a rumor since at least last 25 years. Last photo of Madame Sen - from that voting incident - however showed a certainly aged woman whose sharply curves on the face(the only part we had been allowed in movies, close-ups after close-ups) have been erased by an unforgiving middle-age female fat. Gaseous belly wishes the first real star of Bengali movies a long, happy life to let her see the first movie by her fourth generation, in the close comforts of her Ballygunge Park Road residence.
Unrelated Trivia

: Suchitra has played two characters from the same novel (though in different movies) by Saratchandra -- she played Kamallata (titled same) and Rajlaksmi (Rajlakshmi o Srikanto). Kamallata was directed by Harishadhan Dasgupta, a famous movie-critic. Suchitra's maiden/pre-film name was Rama Dasgupta.
8.
Nargis - A Nehru?

______________________
Tryst with Edwina
This is what happens with one family ruling the nation for about 40 years, 33 out of which delivers no Cable Television to the masses. Unverifiable rumors on the family starts spreading. If Indira was the 'iron-lady' who could even got her son killed, Nehru - her father - was apparently chasing skirts. Numerous ladies were linked with the Kashmiri handsome
pandit
- Edwina Mountbatten (whose husband's ability to swing both ways earned him the title - MountBottom), Padmaja Naidu (Sarojini's daughter;
apparently had a good taste for porn
), Mridula Sarabhai (sister of 'Dad of Indian Space Program' Vikram Sarabhai whom Mrinalini married; Mallika is daughter of Vikram and Mrinalini) and, outside numerous notables, a certain "Shraddha Mata". In the
book long banned by GOI
, Nehru's secretary writes (pp 206) -
In the autumn of 1948 a young woman from Benares arrived in New Delhi as a sanyasin named Shraddha Mata. She was a Sanskrit scholar well versed in the ancient Indian scriptures and mythology. People, including MPs, thronged to her to hear her discourses. One day S. D. Upadhyaya, Nehru's old employee, brought a letter in Hindi from Shraddha Mata. Nehru gave her an interview in the PM's house. As she departed, I noticed that she was young, shapely and beautiful. Meetings with her became rather frequent, mostly after Nehru finished his work at night. During one of Nehru's visits to Lucknow, Shraddha Mata turned up there, and Upadhyaya brought a letter from her as usual. Nehru sent her the reply; and she visited Nehru at midnight.


Suddenly Shraddha Mata disappeared. In November 1949 a convent in Bangalore sent a decent looking person to Delhi with a bundle of letters. He said that a young woman from northern India arrived at the convent a few months ago and gave birth to a baby boy. She refused to divulge her name or give any particulars about herself. She left the convent as soon as she was well enough to move out but left the child behind. She however forgot to take with her a small cloth bundle in which, among other things, several letters in Hindi were found. The Mother Superior, who was a foreigner, had the letters examined, and was told they were from the Prime Minister. The person who brought the letters surrendered them. I made discreet inquiries repeatedly about the boy but failed to get a clue about his whereabouts. Convents in such matters are extremely tightlipped and secretive. Had I succeeded in locating the boy, I would have adopted him. He must have grown up as a Catholic Christian blissfully ignorant of who his father was.
The digression above was just a backdrop. Jawaharlal's father Motilal Nehru is rumored to have fathered Jaddanbai - daughter of Allahabad's most famous
kothewali
Daleepabai. Later, an orthodox brahmin who was supposed to go to England for studies aborted his trips as he fell in love with Jaddanbai's immaculate beauty and even married her much against his family's wishes.
Nargis
is the first born of this couple!
Immediately after she came back to power in 1980, Indira Gandhi nominated Nargis Dutt for a Rajya Sabha (upper house) membership.
Verdict
: Probably true. No one is taking the DNA test yet. Beats every novel you've read, every soap you've usually missed. A part of the family goes to run the country from Delhi, another part aims to do so from Bombay. No member from any of these (extended) families is short of epic drama, not even Kumar Gaurav!
Unrelated Trivia

: Jaddanbai, BTW, was Bollywood's first female music "director". Sanjay Dutt's first wife, Richa Sharma (picture inset, right), also succumbed to cancer just as his mother did.


9.
Sharmila calling Pataudi, holds on
-
Sharmila Tagore calls the Brabourne Stadium, during a test India was playing, to talk to her suitor MAK Pataudi. Someone from the team picks up and informs Pataudi has gone to bat and Madam may call later. A disenchanted Sharmila quips that she would rather hold on since Pataudi never really stays that long in the crease.
Verdict
: False. Probably a pre-SMS version in 60s that got some attention. The same story has been repeated with Glenn McGrath's wife waiting for her husband to come back in the pavilion. Personal favorite Cricket story goes like this - Mark Waugh taunts some rookie English player saying he is not good enough to play for England. James Ormund apparently quipped back - "May be not, but at least I'm the best player in my family".
Unrelated Trivia
: Pataudi, desperately trying to woo Sharmila and not able to decide what to do, finally had a brand-new fridge delivered to her residence.
10.
Various Urban Legends on food -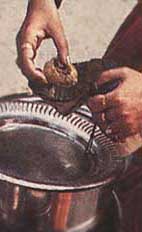 __________________________

"

Aapki haathoN mein kuch,
________________________

Mehke Hue Se Raaz Hai. "


_______________________

- Gulzar
Panipuri (

fuchka

in Bengali) won't taste as good if served by a manicured vendor. Apparently, the biggest variant in the taste is neither the tamarind water, nor the crispiness of the fried dough, nor is it the potato's origin -- but the amount of dirt concealed within the overgrown finger nails of the

panipuriwallah

. That dirt - as it sips in various ingredients - causes the mouthwatering taste in the best

fuchkas

.

Verdict - Abysmally false. This was mothers' try to ensure sons and daughters still have room for home-cooked dinner after an evening out with friends. They failed miserably. Bengalis proudly overlook such facts as the

fuchka

vendor scratching his balls (through a well-worn

lungi

though) as long as the road-side delicacy is stuffed with more red chilly powder one's anus can tolerate a day.


Bread (

pauNruti

in Bengali) is dough prepared by men pressing it with bare feet (

paun - pa - leg

, you see?).



Verdict

- So false even a 2 year old would giggle and ask for his next slice. This is our equivalent of "strawberries are so named because they are bedded in straw".


Coca-cola bottles have "For beverage use only" for a reason - This was one of the ULs passed on by ubiquitous Samrat Tewari in one of those countless college

thek

s. Apparently, someone "in USA" took an empty bottle and, err, tried what

Lord Mountbottom

(see above) tried with members from the unfair sex in his so-called parallel sex life. Apparently this "someone from USA" was unhappy, either of the outcome or the actual pleasure obtained out of it, sued Coca Cola and actually won since - hold on your breath - Coca Cola never forbids one to not use the bottle for other-than-beverage purpose!



Verdict

- Whew! Painful - even without pesticides, ain't it?

Some of the ones I missed in the list above -
Dhirubhai Ambani asks just five minutes from a belligerent Rajiv Gandhi. Tells him of the Rs 500 crores Indira has "kept with him". Gets unlimited access to PM later. Recently shown in the movie "Guru" - though the other man was shown just to be a minister.


Indians "rule" American tech sector so much so that Bill

ji

has said -"

..after the Chinese, South Indians are the smartest people in the world

". Absolutely False.


Percentage of Indians in USA - 38% doctors, 12% scientists, 36% NASA, 34% Microsoft, 28% IBM, 17% Intel, 13% Xerox. Yeah, right! What about the percentage of immigrant Indians driving cabs? Waitering in Indian restaurants? Running pay-by-hour motels?